Mobile Welding Fume Collector
The Filquip Fume 200 is a mobile welding fume collector with 1 or 2 dirty air collection arms that can be positioned at the working space. The collector is designed to collect the harmsul substances in welding smoke and other fabricating activities which can include: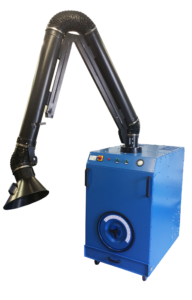 Gaseous toxic and harmful substance such as Carbon Monoxide, Ozone and Nitric Oxide;
Copper, Aluminium and Zinc which exist as smoke in the air;
Harmful particulate substances FexOy, Aluminium Oxide, Fluoride, Barium compounds, Chromium compounds, Nickel Oxide, Cadmium Oxide, Chromium Hemi Trioxide and Dioxide Thorium and so on;
Carcinogens such as Nickel Oxides, Chromium Oxide and so on;
Radioactive substances.
The dirty air is drawn in through the arm into the filter housing where it hits the flow distribution plates and changes direction.  Then the air flow goes upward which causes the heavier particles to drop out of the air flow before hitting the filter.  The remaining fine dust and fumes go through the filter cartridge and are filtered out. The clean air is exhausted through the exhaust silencer.
The pulse cleaning system cleans the cartridge and causes dust to fall into the collection tray which can be emptied.
The filter elements are horizontally loaded, the filter media is high efficiency Nano-web with fire retardant treatment in case of sparks which may pass into the fume collector. The filter media ensures the dust cleaning efficiency and prolongs the service life.
The mobile welding fume collector is a low noise, high efficiency and high air flow unit.
Available in the FUME-150 with 1500m3/hr airflow, 2.2kW Motor and 1 fume arm (Dimensions 740 x 1150 x 1285mm)
Available in the FUME-200 with 2000m3/hr airflow, 3.0kW Motor and 2 fume arms (Dimensions 740 x 1150 x 1285mm)
Available in the FUME-300 with 3500m3/hr airflow, 4.0kW Motor and 2 fume arms (Dimensions 740 x 1150 x 1725mm)
The unit comes on lockable wheels for mobility around the facility.
The unit comes complete with in-built reverse pulse cleaning ability.
Simple control panel provided for ease of operator use.
Open FVC Mobile Welding Fume Collector Brochure
---