Filquip offers a range of filter cartridges for almost any collector unit. Filquip can manufacture filter cartridges to provide a solution to any cartridge filter problem. We pride ourselves on being able to deliver filtration solutions for the dirtiest, stickiest, hottest and nastiest products.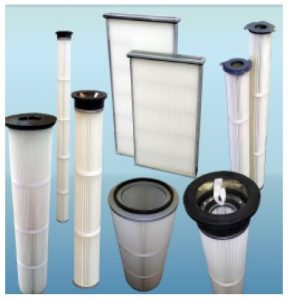 Snap ring, Bottom screw-in, Flanged top, Rectangular Push Down Top and Tri-lobe style top cap options available.
Metal, Polymer/plastic cap and Moulded base matching pleat bottom cap options available.
HEPA filters and HVAC filters available.
Some of the replacement dust collector filters we manufacture are compatible with:
Dustcotech replacement filters.
Clyde-Apac replacement filter cartridges.
Air Systems dust collector replacement filters.
Consonic Dust Filters.
Mix Dust Collector Cartridges.
Donaldson Siloair Replacement Cartridges.
Torrit dust collector replacement filters.
Scutti dust vent replacement filters.
Maxair vent filter replacements.
General enquiries and challenges to find solutions to dust collector and bag house problems are welcomed.