Filquip carries Air Slide Matting Available Ex Stock in Brisbane in standard 305mm and 440mm Wide sizes. Available by the roll or in custom cut sections.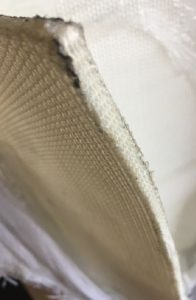 We also often have stocks of other air slide matting sizes including 270mm wide, 320mm wide and 430mm wide.
All of our Air Slide Matting Available Ex Stock is Quality Polyester Multifilement Fabric.
We can also supply special airslide materials for temperatures as low as -60 Deg C up to maximum temperatures of 250 Deg C with sort periods up to 450 Deg C.
Our Air Slide Matting is used in:
Pneumatic Loading Systems.
Pneumatic Discharge Systems.
Air Slides.
Storage Silos.
Fluidising basins.
Railway Wagons Discharging Cones.
Tanker Trucks.
Isotainers.
Powder Coating Machine Sinter Basin Bottoms.
Powder Containers and many other applications.