Filquip is a provider of Potable Water & Sewage Treatment Equipment including Mobile Waste Water Treatment Plants. Filquip supplies WAM and Savi technologies and are leaders in primary water treatment (Inlet Works) equipment including screens, grit separation, compactors and chemical dosing systems. Filquip is a provider of dosing systems including Lime, Polymer, PAC, DOT, Zeolite and many other products.
Open Water and Sewage Treatment Equipment Brochure
---
WAM MIT Mobile Waste Water Treatment Plants
The MIT are Mini Mobile Waste Water Treatment Plants designed to carry out 3 water treatment processes in the one small footprint unit. The Mobile Waster Water Treatment plant Screens the effluent then has a De-Gritting process and a De-Greasing process.
The MIT is designed to process waste water streams from both municipal and industrial plants.
Includes a Floating SINT Screw system to remove floating matter and a Stainless Steel Screw system to remove heavier sinking matter.
Available in Stainless Steel 304 or Stainless Steel 316.
No civil works are required other that a level location for the MIT Mobile Waste Water Treatment Plants.
Effluent flow rates of up to 8 L/s (28.8 m³ / hr).
The SINT polymer Screw system with zero clearance between the screw and screen avoids obstruction of the screen perforations.
Performance of 90% separation of grain sizes greater than 0.2mm.
Open MIT Mini Mobile Waste Water Treatment Plant Brochure 
---
SPECO Combined Mechanical Waste Water Treatment Systems
The Speco Wastemaster series of mechanical waste water treatment systems utilise their own self-supporting tank to extract solids from the waste stream and compact these for disposal or reuse. The Wastemaster series is ideal for septage receival stations or any other system where waste water is required to be mechanically treated before purification.
The Wastemaster TSF1/TSB1 consists of a Screen, Solids conveying screw and Compactor and can handle flow rates up to 30 L/S.
The Wastemaster TSF2/TSB2 consists of a Screen, Solids conveyor screw, Compactor and Sand Separator and can handle flow rates up to 30L/s.
The Wastemaster TSF3/TSB3 consists of a Screen, Solids conveyor screw, Compactor, Sand separator and Grease remover and can handle flow rates up to 210L/s with solids percentages greater than 15%.
Available in Stainless Steel 304 or 316
Open TSF1 Wastemaster Brochure
Open TSF2/3 Wastemaster Brochure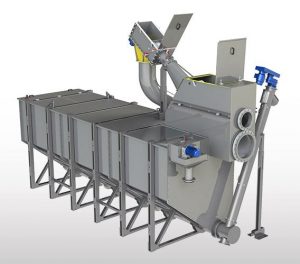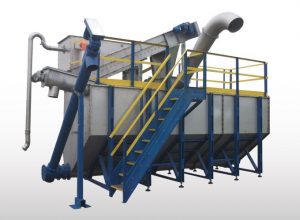 ---