Filquip supplies Double Dump Valves, Slide gates, Rotary Valves and Butterfly valves to suit almost any application in Granular and Powder Materials Handling.
---
WAM Double Dump Valves VDC
The WAM VDC Double Dump Valves consist of a robust casing and two alternately activated flaps, one installed on top of the other.
VDC Double Dump Valves are the ideal solution for controlled discharging of large particle size, abrasive or particularly high temperature materials from silos, bins, hoppers or dust collectors in heavy-duty applications. Double Dump Valves operate as an airlock to the silo or hopper.
Hard wearing construction makes them ideal for providing and airlock or controlled feed or abrasive materials.
Square Inlets from 200×200 to 500x500mm.
Throughput capacities from 1.2 to 17.7m³/hr with a working temperature up to 500°C.
Suitable for discharging dust from large bag house units and for heavy-duty applications in general, in virtually all industries.
Available with electromotive actuator for automated operation.
Open Double Dump Valves Brochure
---
TOREX Rotary Valves
Filquip provides a range of TOREX rotary valves to meter solids from a hopper or silo, place into a blower pneumatic conveying system or provide an airlock on a dust collector.
Drop through and Blow through options in Cast iron, Stainless Steel 304 & 316, Chromed, Teflon and Nickel plated.
Round inlet diameters of 150,200,250 & 300mm.
Square inlet dimensions of 150,200,250 & 300mm.
Rectangular inlet dimensions of 170×122, 238×135, 276×148, 377×196, 470×240 & 569x284mm.
Capacities of 2, 5, 10, 20, 35 & 80 L/Rev.
Working Temperatures from -40°C to 150°C.
---
WAM Butterfly Valves
Filquip supplies a range of butterfly valves for materials handling systems.
Valve pressure rating options of up to 0.2, 2.5 and 8 bar.
Carbon steel, Aluminium alloy and Stainless steel material options.
Manual, Pneumatic or Electrical actuation options available.
Size options of 100, 125, 150, 175, 200, 250, 300, 350 & 400mm diameter.
---
WAM Slide Gate Valves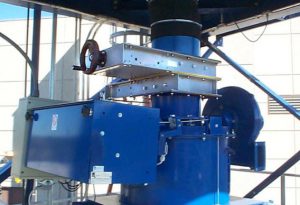 Slide gate valves are used where the flow of a bulk solid by gravity is required to be intercepted.
Carbon steel and Stainless steel construction material options.
Square cross section sizes of 150, 200, 250, 300, 350, 400, 450, 550, 650, 750 & 950mm.
Round cross section diameters of 150, 200, 250, 300, 350 & 400mm.
Rectangular cross section sizes of 150×250, 200×300, 250×400, 300×450, 375×560 & 425x650mm.
Internal Actuation available and Low profile "thin" gates available.
Manual, Pneumatic or Electrical Actuation options available.
Open VG Slide Gate Valves Brochure
Open VL Series Slide Valve Brochure