Filquip provides a range of Bag Splitting Stations and Bulk Bag Unloaders with splitter knives to suit a diverse selection of bag types and sizes, from 25kg paper bags to 2m3 Bulk Bags in fabric. These units are also known as Bag Break Stations and Bag Unloading Stations.
---
EXTRAC Manual Bag Splitting Station RSM
The RSM Manual bag splitting station allows the user-friendly splitting of bags in a dust controlled environment. With easy connection to a screw conveyor, feeder or pneumatic conveying system for safe discharge of dangerous products.
The RSM Manual Bag Opener consists of a grille mounted on top of a hopper at a good working height for the operation. A fabricated hood with protection door fitted on its front covers the hopper and grille. RSM Bag Unloaders are manufactured from high-finish-grade materials and come with or without integrated dust collection filter unit. In the version with integrated dust filter the filter elements are pneumatically cleaned by reverse air jet.
The operator places the bag on the front rest and slides it forward onto the grille. The bag is then slit open with a vertical cut and tapped till empty. The bag content is discharged through the hopper outlet or by WAM BINSWEEP (a special rotary discharging device). The hopper outlet drops into any type of feeder and the built-in fan operated, air jet cleaned dust collector filters the dust generated during emptying. The empty bag is dropped into the chute on the side which leads into the optional COM Waste Bag Compactor.
Manual RSM Bag Splitting Station are designed to minimise material residue.
Available in Carbon Steel, Stainless Steel 304 or Stainless Steel 316.
Available with duct collection filter mounted on the unit (3 – 22 m2  Filter Area).
Available with connection for a centralised dust collection system to be connected.
Available in Hazardous Area Zone build.
Simple, quick access to internal parts. Designed for easy cleaning.
Open Manual Bag Splitting Station Brochure
---
EXTRAC Automatic Bag Splitting Station RSA
The RSA Automatic bag splitter allows the splitting of bags loaded onto a conveyor belt by pressing and cutting to unload the product in an automatic and safe manner.
The RSA Automatic Bag Splitting Station by EXTRAC is great value, offering cutting edge technology with few moving components and a simple operating principle.
It is made up of a splitting unit which consists of a trough that encloses an extra heavy-duty splitting screw which cuts the bags and empties the product into the screening unit that is a horizontal, cylindrically shaped rotating screen, complete with drive unit. On top of the screening unit a suitable fan-operated dust collector can be integrated. Alternatively, the RSA is supplied with connecting spigots for a central de-dusting unit.
The RSA Automatic Bag Splitter is used for splitting and emptying of single or multiple layer bags made from paper, polyethylene, polyethylene-lined paper, interwoven plastic, or polyethylene-lined interwoven plastic.
The bags are loaded manually or via a belt conveyor into the inlet which is covered by a dust collection hood. The bags drop from the belt on a heavy-duty shaftless screw. Thin bags will burst open just through impact. Bags with multiple layers or those made of elastic plastic material are pulled in by the slowly turning screw and ripped open through a scissor effect between screw and trough. Interwoven plastic bags are cut open by a multiple cutting disc set mounted on top of the inlet. The bag contents fall through the screen mesh into a collecting device mounted on the outlet of the machine allowing the product to be fed into a Screw Conveyor, Rotary Valve or other conveying system.
Available in Carbon Steel, Stainless Steel 304 or Stainless Steel 316.
Available with duct collection filter mounted on the unit.
Available with connection for a centralised dust collection system to be connected.
Low operating noise.
Able to handle bags of different sizes without machine adjustment.
Low product residue.
Open Automatic Bag Break Station Brochure
---
EXTRAC Bag Splitting Bulk Bag Unloader
Filquip supplies bulk bag splitting and unloading stations for cutting FIBC bulk bags that cannot be re-used or do not have bag necks.
The bag splitting system results in a quick bag emptying time and is an efficient way of quickly unloading bulk bags and transferring the product up into a bulk storage silo.
---
Mobile Bulk Bag Splitting Station
Filquip has custom designed and fabricated a range of mobile bulk bag splitters with integrated screw conveyor to unload product.
Each mobile bulk bag unloading system comes with the following components:
Hard wearing bag splitting knife.
1.1m3 Storage Hopper with Electric Vibrator for product flow.
Modular Screw Conveyor (De-mountable for transport or storage).
Local control panel, wired ready for use to the motors.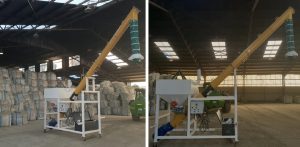 ---
EXTRAC Bag Compactors COM
For disposing of large volumes of empty bags the COM Waste Bag Compactor is an efficient and economical solution. Bags are compressed to a fraction of their original volume while the workplace is kept perfectly tidy.
The COM Bag Compactor for broken empty bags consists of a trough that  is longitudinally split in half to facilitate replacement of the SINT liner that helps with the introduction of the bags into the compression chamber and further compression of the broken bags once in the chamber. At the end of the COM outlet a polyethylene tube for disposal of waste bags can be fitted.
The COM Waste Bag Compactor can receive entire empty bags or bag fragments from a bag emptying device. It compacts bags to approximately one eighth of their original volume. Waste bags can be easily disposed of by collecting them in a polyethylene hose which has to be periodically cut and sealed.
Available in Carbon Steel or Stainless Steel 304
All models come with heavy duty shaftless spiral with bearing mounted at the inlet.
Easy access to all parts due to its modular design.
Able to handle bags of different sizes without machine adjustment.
Available in Hazardous Area Zone build.
The bag compactor does not have to be shut down to release the filled outlet bag.