Filquip has been providing hopper and silo discharging systems for over 17 years for all types of powders and granular materials.
Filquip has specialist experience in Lean phase blowing, Dense phase conveying and Vacuum conveying systems.
---
EXTRAC Bin Activator
The EXTRAC Bin Activator is a silo or bin discharging device that creates controlled vibration in middle of the product column for continuous extraction with optimal mass flow.
Available in Stainless steel 304, Carbon steel or Carbon steel with food grade paint.
Seamless discharge cone.
ATEX Zone 21 & 22 certified versions available.
Gasket made from wear-resistant SINT engineering polymer.
---
WAM Live Silo/Bin Bottoms MU
MU Live Bin Bottoms are the ideal solution for discharging particularly difficult materials from polygonal hoppers or silos.
Used for extracting biological or industrial sludge, paper scrap, wood chippings, sawdust, flour, bran, chemical pellets and many other products.
Up to 6 shafted helicoid flight or paddle screws for product movement.
Screw diameters from 150 to 600mm and trough length from 1,500 to 4,000mm.
Available in Carbon steel or Stainless steel
---
TOREX Outloading / Loading Bellows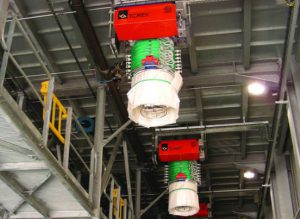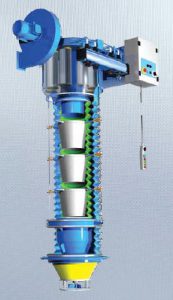 The TOREX telescopic loading bellows range has been developed for efficient dust free loading and unloading of powders and granular materials.
Available in Open truck, Tanker, Drum and Ship options.
Throughput capacity from 1m³ to 1,800m³ / hr across the product range.
ATEX Zone 20-22 and 20-21 versions available.
Operating temperatures from -40°C to 150°C.
---
EXTRAC Lump Breakers
Filquip provides a range of lump breakers and crumblers for breaking up lumpy materials.
Twin shaft for high throughput rates.
Available in Carbon steel, Stainless steel 304 & 316.
Throughputs up to 50m³ / hr.
---
TOREX Rotary Valves
Filquip provides a range of TOREX rotary valves to meter solids from a hopper or silo, place into a blower pneumatic conveying system or provide an airlock on a dust collector.
Drop through and Blow through options in Cast iron, Stainless Steel 304 & 316, Chromed, Teflon and Nickel plated.
Round inlet diameters of 150,200,250 & 300mm.
Square inlet dimensions of 150,200,250 & 300mm.
Rectangular inlet dimensions of 170×122, 238×135, 276×148, 377×196, 470×240 & 569x284mm.
Capacities of 2, 5, 10, 20, 35 & 80 L/Rev.
Working Temperatures from -40°C to 150°C.
---
WAM Butterfly Valves
Filquip supplies a range of butterfly valves for materials handling systems.
Valve pressure rating options of up to 0.2, 2.5 and 8 bar.
Carbon steel, Aluminium alloy and Stainless steel material options.
Manual, Pneumatic or Electrical actuation options available.
Size options of 100, 125, 150, 175, 200, 250, 300, 350 & 400mm diameter.
---
WAM Slide Gate Valves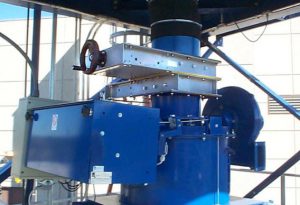 Slide gate valves are used where the flow of a bulk solid by gravity is required to be intercepted.
Carbon steel and Stainless steel construction material options.
Square cross section sizes of 150, 200, 250, 300, 350, 400, 450, 550, 650, 750 & 950mm.
Round cross section diameters of 150, 200, 250, 300, 350 & 400mm.
Rectangular cross section sizes of 150×250, 200×300, 250×400, 300×450, 375×560 & 425x650mm.
Internal Actuation available and Low profile "thin" gates available.
Manual, Pneumatic or Electrical Actuation options available.
Open VG Slide Gate Valves Brochure
Open VL Series Slide Valve Brochure
---
WAM Double Dump Valve VDC
The WAM VDC Double Dump Valves consist of a robust casing and two alternately activated flaps, one installed on top of the other.
An ideal solution for controlled discharging of particularly high temperature or abrasive, large particle size materials.
Square Inlets from 200×200 to 500x500mm.
Throughput capacities from 1.2 to 17.7m³/hr with a working temperature up to 500°C.
Suitable for discharging dust from large de-dusting units and for heavy-duty applications in general, in virtually all industries.
Open Double Dump Valve Brochure
---
Air Slide Material
Filquip is a provider of airslide material to the bulk materials handling industry to standard dimensions and custom dimensions for your airslide.
---
WAM LBC Circular Lump Breaker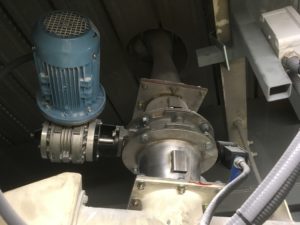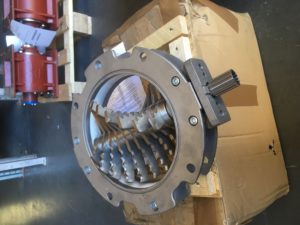 The new WAM LBC Circular Lump Breaker is a low profile cost effective solution to clumps and lumps in powders and granular materials.
Circular Lump Breaker body manufactured in Aluminium Alloy and available with Stainless Steel or Mild Steel Blades.
Available in multiple diameters including 200, 250, 300, 350 and 400mm.
75mm Flange to Flange (Low Profile)
Comes with Gearbox and Motor
Open Circular Lump Breaker Operation Video
---
Air Slides
Filquip is provider of new airslide systems to the bulk materials handling industry to meet the custom dimensions for your project.
---
EXTRAC Bulk Bag Filler RBB
The EXTRAC RBB Bulk Bag Filler uses a steel support frame with telescopic tubes allowing height adjustment to adapt to different bulk bag dimensions.
Bulk Bag Fillers are available in Carbon steel, Stainless steel 304 and Stainless steel 316.
---
MAP Dust Conditioners
The MAP Wetdust and Dustfix Dust Conditioners provide an economical solution for conditioning industrial dusts.
Suitable for dust recycling, storage or disposal.
Developed for handling the most abrasive industrial quarry return pit dusts.
Throughput rates up to 80m³ per hour.
Open Dust Conditioner Brochure
---
WAM Microbatch Feeders MBF
The WAM MBF range of Micro-batch feeders provide accurate volumetric feeding of powder and granular materials.
Stainless steel body, Agitator tool and Feeder screw.
Available with Horizontal or Vertical spout outlets.
Available with food-grade and ATEX zone versions.
Throughputs of up to 6m³ / hr.
Integration with a loss in weight system or VSD can provide automated accurate batching systems.
Open Microbatch Feeders Brochure
---
Silos
Filquip can supply Welded or Bolt together silo packages including all of the required Silo "Jewellery" to Australian Standards.
Welded Silos available in custom built heights, diameters and capacities.
Bolt together silo options from 35m³ to 125 m³. Allowing modular construction inside a building.
Open Bolt Together Silos Brochure
---
Wear Elbows – Extrabend
Filquip provides a short radius wear bends with WAM patented geometry enabling diversion of the flow of the material at minimum wear.
---
Wear Bends – Extracurve
Filquip provides a long radius wear bends made from patented WAM SINT engineering polymer cast around a helicoid spring core. The symmetric nature of the wear bends allows them to be mounted in reverse when they begin to show signs of wear from abrasive materials.
---
Eurac Pipe Couplings
Filquip is an Australian distributor and agent for Eurac couplings for pipe and tube.
Sizing from 38.1mm to 300mm in diameter.
Suitable for all pneumatic and vacuum conveying operations.
High working pressure.
Available in Galvanised steel with Stainless Steel contact parts or in full 304 Stainless Steel.
NBR seals supplied as standard, other options includes FDA approved food grade, Viton and Silicon seals.
---
Magnetic Separators and Tube/Pipe Magnets
The Magnetic Separators and Tube/Pipe Magnets are available from Filquip including manual and automated metal disposal from options for your system.
The automated magnetic separators work by magnetising metals contained in the product flow which become held to the side wall magnet, the side wall magnet flap then opens with the metals still magnetised, with the magnetic flap open over the discharge chute demagnetisation occurs depositing the metals into the waste chute.
The automated magnetic separators come in three standard sizes: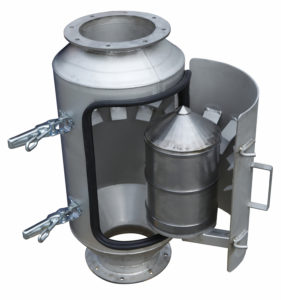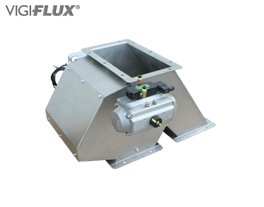 200mm x 350mm (Throughput 100 m3/hr)
200mm x 650mm (Throughput 200 m3/hr)
200mm x 950mm (Throughput 300 m3/hr)
The manual tube/Pipe Magnets are designed to intercept metals contained in the product flow and hold them to the magnetic body for cleaning and disposal. The tube or pipe magnets come in eight standard sizes:
100mm Diameter (Throughput 10 m3/hr)
150mm Diameter (Throughput 35 m3/hr)
200mm Diameter (Throughput 85 m3/hr)
250mm Diameter (Throughput 130 m3/hr)
300mm Diameter (Throughput 200 m3/hr)
400mm Diameter (Throughput 260 m3/hr)
500mm Diameter (Throughput 310 m3/hr)
600mm Diameter (Throughput 400 m3/hr)