Filquip can design, specify and provide vacuum conveying systems to move product from trucks, bulk bags, hoppers or silos to any location.
Filquip can also provide industrial vacuum collection systems to move product from suction heads to bins or bags for simple waste removal.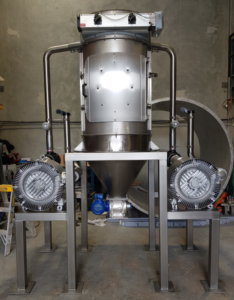 ---
TOREX Blow Through Rotary Valves
Filquip provides a range of blow through to meter solids into a blower pneumatic conveying system or provide an airlock on a dust collector.
Drop through and Blow through options in Cast iron, Stainless Steel 304 & 316, Chromed, Teflon and Nickel plated.
Round inlet diameters of 150,200,250 & 300mm.
Square inlet dimensions of 150,200,250 & 300mm.
Rectangular inlet dimensions of 170×122, 238×135, 276×148, 377×196, 470×240 & 569x284mm.
Capacities of 2, 5, 10, 20, 35 & 80 L/Rev.
Working Temperatures from -40°C to 150°C.
---
Filquip supplies a range of in pipeline diverter valves in a range of mechanical operating layouts (Drum Type, Flap type, Pinch Valves, Oscilating Pipe Type etc). From 2" to 8" in size and diverting from 1 inlet to 2 outlets all the way up to 1 inlet with 10 outlets.
---
EXTRAC Bulk Bag Unloader SBB
The SBB Bulk Bag unloader provides an effective solution to unloading bulk bags of product in an efficient manner.
Available in a half frame height where a crane or forklift is utilised to lift and hold the bag during unloading
Available in full frame height with telescopic rails for bag loading with a forklift into the frame.
Includes a vibrating pan plate and dust collection point to ensure efficient and clean bulk bag unloading.
Bulk Bag Unloaders are available in Carbon Steel, Stainless Steel 304 and Stainless Steel 316.
Open Bulk Bag Unloader Brochure
---
EXTRAC Bulk Bag Filler RBB
The RBB Bulk Bag Filler uses a steel support frame with telescopic tubes allowing height adjustment to adapt to different bulk bag dimensions.
Bulk Bag Fillers are available in Carbon Steel, Stainless Steel 304 and Stainless Steel 316.
Open RBB Bulk Bag Loader Brochure
---
EXTRAC Lump Breakers
Filquip provides a range of lump breakers and crumblers for breaking up lumpy materials.
Twin shaft for high throughput rates.
Available in Carbon steel, Stainless steel 304 & 316.
Throughputs up to 50m³ / hr.
---
Borosilicate Sight Glass Viewing Pipes and Bends
The new Eurac Borosilicate Sight Glass Viewing Pipes and Bends, Tubing and Viewing Pipes come in a wide range of diameters. The transparency of the borosilicate glass allows simple visual checks of the material flowing through the pipes or bends. With Electrostatic Protection from its Copper Conductive Strip and Food Grade properties (think Pyrex Glass) they are well suited to a large range of products.
Borosilicate Glass has up to 10 times the abrasion resistance of Stainless Steel.
Available in multiple tube and pipe diameters including 38, 40, 45, 50, 60, 63.5, 65, 70, 76, 80, 84, 88.9, 101.6, 104 and 114mm.
Available in Straight Lengths, 45 Deg Bends or 90 Deg Bends.
Industrially known as Spy Pipes, Sight Glass, See through pipes, Inspection pipes, Toughened glass bends and Inspection sections.
Open Borosilicate Sight Glass Viewing Pipes and Bends Brochure
---
Ducted Hepa Filter Box
The Filquip Hepa Filter air intake box is the ideal solution for providing clean air into your plant equipment process.
Developed for Fan and Vacuum Conveying intakes in industrial food processing plants the housing box is made from Stainless Steel with a pre-fitted outlet pipe spigot as requested by the customer.
The Filquip Hepa box system comes with:
Air Intake box in 304 or 316 Stainless Steel
A premium washable V-form pre-filter (Rated resistance 65Pa up to a maximum 3400 m3/hr airflow)
AstroCel 3 Hepa Filter H13 (Rated resistance 250Pa up to a maximum 4000 m3/hr airflow)
This pre and hepa filter system provides an extended life with greater than 99.99% Efficiency at 0.3 Micron.
---
Wear Elbows – Extrabend
Filquip provides a short radius wear bends with WAM patented geometry enabling diversion of the glow of the material at minimum wear.
---
Wear Bends – Extracurve
Filquip provides a long radius wear bends made from patented WAM SINT engineering polymer cast around a helicoid spring core. The symmetric nature of the wear bends allows them to be mounted in reverse when they begin to show signs of wear from abrasive materials.
---
Eurac Pipe Couplings
Filquip is an Australian distributor for Eurac clamps for pipe and tube.
Sizing from 38.1mm to 300mm in diameter.
Suitable for all pneumatic and vacuum conveying operations.
High working pressure.
Available in Galvanised steel with Stainless Steel contact parts or in full Stainless Steel.
NBR seals supplied as standard, other options includes FDA approved food grade, Viton and Silicon seals.