Filquip can provide Modular Slios that are in a bolt together panel form allowing construction inside a factory or building without removing the roof. Filquip also supplies traditional welded silos to the materials handling industry.
---
Modular Silos
Filquip supplies Bolt together Modular silos packages including all of the required Silo "Jewellery" to meet Australian Standards for pressure relief, dust controlled venting and level monitoring.
Silofab Modular Silos are designed and engineered according to international standards in force related to wind, snow, and seismic activities. These bolt together silos are made from  carefully selected materials and the industrial manufacturing processes results in a high-quality product in the tradition of artisan expertise.
The SPG 35 series of Silofab Modular Silos are designed for economic shipping and require short assembly time. The nature of these silos require minimum maintenance  and the finish and construction details guarantee sealing.
Bolt together Silos allow modular construction inside a building without removing the roof.
Bolt together silo options from 35m³ to 125 m³.
Modular system that simplifies shipping, installation and dismantling.
International distribution and service network.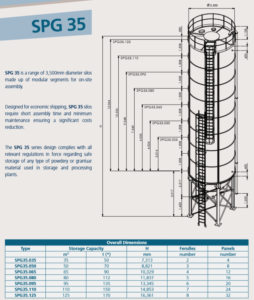 Open Bolt Together Modular Silos Brochure
---
Fabricated Silos 
Filquip supplies fabricated silo packages including all of the required Silo "Jewellery" to Australian Standards including dust vents, pressure relief, level probes, silo monitoring systems,  access ladders and platforms.
Our custom designed and fabricated Silos can be made in any capacity, height or diameter required.
Filquip works with FSI Engineering to deliver Fabricated Silos.
Visit the FSI Engineering Website
---
EXTRAC Bin Activator
The EXTRAC Bin Activator is a silo discharging device that creates controlled vibration in middle of the product column for continuous extraction with optimal mass flow.
Available in Stainless steel 304, Carbon steel or Carbon steel with food grade paint.
Seamless discharge cone.
ATEX Zone 21 & 22 certified versions available.
Gasket made from wear-resistant SINT engineering polymer.