Fresh concrete does n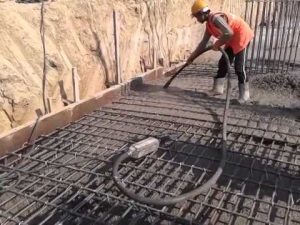 ot compact and release air bubbles trapped within the mix without vibration. Filquip supplies a range of Compressed Air Driven Concrete Pokers also known as Needles to overcome the poor fluidity and internal friction within the fresh concrete to release the air bubbles and compact the concrete mix.
These high frequency immersion vibrators come into direct contact with the concrete.
OLI VHA Compressed Air Concrete Pokers are:
100% Waterproof
Free from electricity – Safe to operate
Maintenance Free – No moving parts inside the hose
Free from Overheating
Robust, providing a long life for the vibrating needle head.
Vibration of the wet concrete also provides the following advantages:

Reduction of cavities through the vibrational displacement of the aggregates to achieve a homogeneous concrete mix prior to setting.
Greater adhesion of the concrete to the reinforcing bars or any internal structural members as well as the base anchors.
Reduces concrete porosity and permeability to water.
Reduces cracks occurring in the concrete.
Completes filling of the whole formwork by increasing the fluidity of the concrete mix, resulting and higher aesthetic finishes of the concrete surface.
---
High Frequency Compressed Air Concrete Poker – VHA Series
The VHA Series of high frequency pneumatic concrete pokers operate on compressed air at 6bar to provide a high working efficiency under safe conditions.
VHA range comes with 2m SBR rubber hose (Optional up to 6m length available)
Quick Connect Fittings and filter included
Available in 40mm, 50mm, 60mm, 80mm and 105mm diameter poker heads.
Eccentric Rotor Vibration Generation with no moving parts in the hose
No moving parts in the hose = Maintenance Free Operation
No moving parts in the hose = Less vibration on the hands and arms of the operator
Can work out of concrete without overheating
Open OLI VHA Pneumatic Concrete Pokers Datasheet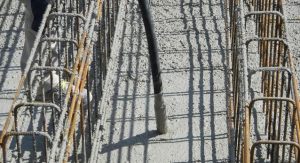 ---

---
Mobile Compressors
Filquip is an Authorised Distributor of FS Curtis Mobile Compressor Systems from Japan. Available in Forklift Box Types or Trailer Mounted systems.
The FAC Series trailer type, portable diesel air compressors are designed for towable mobility. Available in single axle on-road models up to 11 m³/min or larger dual axle off-road models up to 28.3 m³/min. They are easily convertible into box type configuration if required.
5.2 m³/min to 28.5 m³/min compressed air capacity
69 dBa noise level in operation
The FAC Series box type, portable diesel air compressors are designed for mounting in confined spares such on trucks or mobile equipment. Access is only required to one side for routine maintenance. The all-steel cabinets are lockable, silenced and weatherproof
1.6 m³/min to 36 m³/min compressed air capacity
Maximum 68 dBa noise level in operation