The Filquip Hepa Filter air intake box is the ideal solution for providing clean air into your plant equipment process.
Developed for Fan and Vacuum Conveying intakes in industrial food processing plants the housing box is made from Stainless Steel with a pre-fitted outlet pipe spigot as requested by the customer.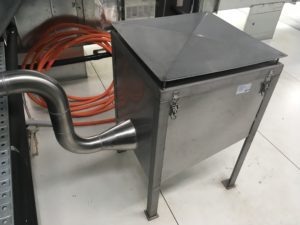 The Filquip Hepa box system comes with:
Air Intake box in 304 or 316 Stainless Steel
A premium washable V-form pre-filter (Rated resistance 65Pa up to a maximum 3400 m3/hr airflow)
AstroCel 3 Hepa Filter H13 (Rated resistance 250Pa up to a maximum 4000 m3/hr airflow)
This pre-filter and hepa-filter system provides an extended life with greater than 99.99% Efficiency at 0.3 Micron.