The new Eurac Borosilicate Sight Glass Viewing Pipes and Bends, Tubing and Viewing Pipes come in a wide range of diameters. The transparency of the borosilicate glass allows simple visual checks of the material flowing through the pipes or bends. With Electrostatic Protection from its Copper Conductive Strip and Food Grade properties (think Pyrex Glass) they are well suited to a large range of products.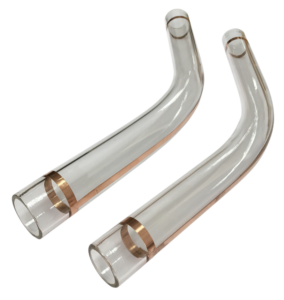 Borosilicate Glass has up to 10 times the abrasion resistance of Stainless Steel.
Available in multiple tube and pipe diameters including 38, 40, 45, 50, 60, 63.5, 65, 70, 76, 80, 84, 88.9, 101.6, 104 and 114mm.
Available in Straight Lengths, 45 Deg Bends or 90 Deg Bends.
Industrially known as Spy Pipes, Sight Glass, See through pipes, Inspection pipes, Toughened glass bends and Inspection sections.