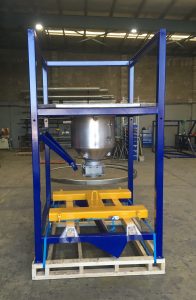 Filquip has developed a modular Lime Dosing Package of equipment for simple setup and operation. The Filquip Modular Lime Dosing System consists of the following key components:
Telescopic Bulk Bag Unloading System with 304 Stainless Steel storage hopper.
Slide gate valve for lime powder isolation.
Bulk Bag Unloader Vibrators and Aerators for optimal Lime powder flow.
TX Stainless Steel 304 Screw Conveyor 2.8m long at 45Deg incline.
Dust Extraction System for Bulk Bag Unloading with integrated Rotary valve to return the dust into the Screw conveyor.
Stainless Steel 304 Mixing Tank with 0.55kW Mixer, Access Hatches, Level Sensor and Lime Slurry Outlet Process Connections.
Filquip lime dosing systems are also available on a forkliftable skid frame with integrated control panel for a fully mobile Lime Dosing Solution.
Open the Modular Lime Dosing System Case Study
Our Lime Dosing Systems are constructed using Quality Italian Equipment designed and developed for Lime Dosing. Visit the WAM Lime Dosing Page.