Air-Tec Systems the Filquip partner for Dense Phase Conveying Technology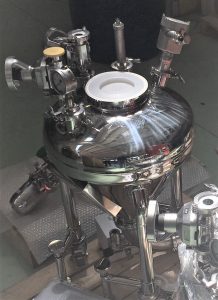 have a proven record in delivering extremely high quality pharmaceutical pneumatic conveying systems. Air-Tec has just delivered a batch of fully mirror finish electropolished 316 Stainless Steel Dense Phase Vessels to ACS Dobfar in Italy.
System 1 is to convey the pharmaceutical antibiotic products from a sealed hand break station to the batch reactor.
System 2 is to convey the pharmaceutical products from a sealed hand break station to the product grinder.
These Dense Phase Conveying Systems transfer the products with inert nitrogen in a closed loop process with a flow rate of 0.2 TPH over a distance of 15m.
Some of the advantages of using Filquip & Air-Tec Dense Phase Conveying Systems Include:
Fully sealed conveying for the highest level of safety and reduced PPE requirements.
Reduction of dust and airbourne particles in the pharmaceutical plant.
Reduction in workplace back injuries from reduced lifting and carrying of products.
Mirror Electro polish Finish for Hygiene and cleanliness.
Dense Phase Conveying maintains the properties of mixtures.
Our pharmaceutical pneumatic conveying systems comply with GMP (good manufacturing practices) standards for the conveying of excipients and pharmaceutical powders in complete safety. The parts that come into contact with the products are made of polished stainless steel; furthermore, cleaning cycles of both the pipes and the conveyor vessel are possible.
The whole system is completely closed in order to ensure a high level of hygiene.
Materials are conveyed at a low speed in order to keep finished products and mixtures in perfect condition. The use of a minimal amount of compressed air ensures considerable cost savings.
Pneumatic conveying systems are also used for the transfer of capsules, pills and tablets due to the reliability of the conveying processes and the hygienic nature of the closed pipeline conveying system.
Our Dense Phase Conveying Systems are constructed using Quality Italian Equipment designed and developed. Visit the Air-Tec Hygenic Dense Phase Systems Page.