Filquip can provide mixing, metering & dosing systems to all industries for a range of powders and granular materials. Filquip is a provider of Lime Dosing, Polymer Dosing, PAC dosing, DOT Dosing and Zeolite Dosing Systems.
---
MAP Ploughshare, Paddle and Ribbon Mixers and Blenders
Within the MAP range of mixers supplied by Filquip a solution can be provided for any batch or continuous mixing project.
Batch ploughshare mixers with capacities from 75 to 15,000 L/Batch.
Continuous ploughshare mixers with capacities from 2 to 450m³/hr.
Batch ribbon blenders with capacities from 75 to 15,000 L/Batch.
Continuous ribbon blenders with capacities from 75 to 15,000 L/Batch.
Batch twin paddle shaft mixers with capacities from 120 to 3,600 L/Batch.
---
MAP Mortar Mixers
Filquip is a supplier of mortar mixers with bag feed and silo feed options
The Wetmix V05 is a continuous horizontal single shaft mixer for fitting under a silo in the preparation of premixed mortars or plasters.
The Wetmix bag unit is a horizontal single shaft mixer suitable for all dry premixed building materials delivered on bags such as mortars, plasters, slags and adhesives.
---
MAP Dust Conditioners
The Wetdust and Dustfix Dust Conditioners provide an economical solution for conditioning industrial dusts.
Suitable for dust recycling, storage or disposal.
Developed for handling the most abrasive industrial quarry return pit dusts.
Throughput rates up to 80m³ per hour.
Open Dust Conditioners Brochure
---
WAM Screw Conveyors – Metering
Filquip supplies a large range of WAM screw conveyors including metering screws.
Screw Diameter Options of 114, 139, 168, 193, 219, 273 and 323mm.
Numerous inlet and outlet options including spigot, round and square flanges and universal.
Standard or custom built screw conveyors including options for multiple inlets and outlets and inspection hatches as required.
---
TOREX Rotary Valves
Filquip provides a range of Torex rotary valves to meter solids from a hopper or silo, place into a blower pneumatic conveying system or provide an airlock on a dust collector.
Drop through and Blow through options in Cast iron, Stainless Steel 304 & 316, Chromed, Teflon and Nickel plated.
Round inlet diameters of 150,200,250 & 300mm.
Square inlet dimensions of 150,200,250 & 300mm.
Rectangular inlet dimensions of 170×122, 238×135, 276×148, 377×196, 470×240 & 569x284mm.
Capacities of 2, 5, 10, 20, 35 & 80 L/Rev.
Working Temperatures from -40°C to 150°C.
Open TOREX Rotary Valves Brochure
---
Microbatch Feeders MBF
The MBF range of Micro-batch feeders provide accurate volumetric feeding of powder and granular materials.
Stainless steel body, Agitator tool and Feeder screw.
Available with Horizontal or Vertical spout outlets.
Available with food-grade and ATEX zone versions.
Throughputs of up to 6m³ / hr.
Integration with a loss in weight system or VSD can provide automated accurate batching systems.
Open Microbatch Feeders Brochure
---
Low Profile Circular Lump Breaker LBC
The WAM LBC Circular Lump Breaker is a low profile cost effective solution to clumps and lumps in powders and granular materials.
Lump Breaker body manufactured in Aluminium Alloy and available with Stainless Steel or Mild Steel Blades.
Available in multiple diameters including 200, 250, 300, 350 and 400mm.
75mm Flange to Flange (Low Profile).
Comes with Gearbox and Motor.
---
Magnetic Separators and Tube/Pipe Magnets
The Magnetic Separators and Tube/Pipe Magnets are available from Filquip including manual and automated metal disposal from options for your system.
The automated magnetic separators work by magnetising metals contained in the product flow which become held to the side wall magnet, the side wall magnet flap then opens with the metals still magnetised, with the magnetic flap open over the discharge chute demagnetisation occurs depositing the metals into the waste chute.
The automated magnetic separators come in three standard sizes: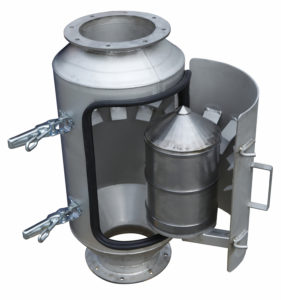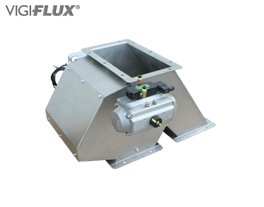 200mm x 350mm (Throughput 100 m3/hr)
200mm x 650mm (Throughput 200 m3/hr)
200mm x 950mm (Throughput 300 m3/hr)
The manual tube/Pipe Magnets are designed to intercept metals contained in the product flow and hold them to the magnetic body for cleaning and disposal. The tube or pipe magnets come in eight standard sizes:
100mm Diameter (Throughput 10 m3/hr)
150mm Diameter (Throughput 35 m3/hr)
200mm Diameter (Throughput 85 m3/hr)
250mm Diameter (Throughput 130 m3/hr)
300mm Diameter (Throughput 200 m3/hr)
400mm Diameter (Throughput 260 m3/hr)
500mm Diameter (Throughput 310 m3/hr)
600mm Diameter (Throughput 400 m3/hr)